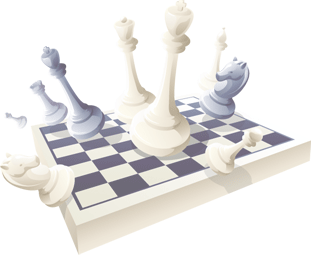 Chessgamble Privacy Policy
Table of contents
As part of our service chessgamble we take privacy seriously and respect your privacy.
Chessgamble is responsible for own content made available for use. Offers for which we only provide access (links), we are not responsible. We explicitly draw your attention that we assume for the content of linked websites had no legal responsibility.
We are committed, the Teleservices Data Protection Act (TDDSG) to consider as part of our service. The TDDSG applies for the protection of personal data of users of telecommunication services in collecting, processing and use of personal data.
According to § 3 of the TDDSG, personal data we just collected, processed and used as a legal permission exists or you have given us your consent. The use of personal data are only for the purposes for which they were collected. In the event that we use on the legal framework also data for certain purposes, we will inform you about this and ask for your consent.
Such consent can give us electronically. In this way we possibly make you part of our service attentive. The consent you can of course be revoked at any time. Send to this end an e-mail
In order to provide our services to your complete satisfaction, we use cookies or other techniques to allow for evaluation of user behavior. This is done anonymously, without having to connect back to you as a person using is possible. However, the data will be used only for optimal service delivery and not forwarded to third parties. The storage is only temporary, until an anonymous evaluation. This data is then permanently deleted.
The collection and processing of personal data take place only insofar as necessary to ensure service delivery. We, or our partner companies use recognized safety standards (such as SSL encryption, cryptographic methods) so that you can use the service for third parties to secure.
It is thus ensured in every case that no unauthorized third party learns of your participation in our services. In the event that you are redirected to our foreign service to another service provider, we draw your attention.
Upon request, we will gladly give you the information about your personal data if you want to be aware of what information we hold about you please contact via e-mail with us. Within a reasonable time we will answer your questions in detail.
In the following we will give you a brief overview of different data types and their treatment.
Inventory data, data you transmit to us, so that the contract between you and us comes (contract details), we may collect, process, without your consent, and use. No further processing is permissible only within the narrow limits of § 28 of the Act. Any further misused data use is permitted only with your consent.
To the extent necessary for the implementation of our service or for billing purposes, we may collect your usage information without consent process, and use. Unless you disagree, we must for purposes of advertising, market research, or to tailoring our services in relation to the pseudonymous user profiles make use of data.
If you use with your use of such data do not agree, please send us an e-mail
To the extent necessary for billing purposes, we are legally authorized to use your data through the end of its useful addition to process and transfer them to a trusted partner companies.
For market research purposes, we may send anonymous usage data to third parties.
Technical protection measures
We take the necessary technical and organizational measures that are necessary to ensure the confidentiality of your data stored by us.
Where personal data are processed on our behalf by external companies (eg data centers, outsourcers), this is only through carefully selected and reputable contractor, in turn, we are committed towards ensuring the privacy regulation. In these cases, the limited amount of information sent to the necessary minimum. Submitted credit card or other payment information we provide as part of the order is placed only our payment partners for processing. This meeting their commitment to privacy is controlled by us (ongoing). Also as far as we assume the obligation to comply with data protection seriously.
We hope that we have largely informed you about our handling of your data. For further questions please contact at any time in our house are available. Please send it to an e-mail